The PgM² Programme Canvas addresses the needs of those who are looking for an effective and efficient way to organise brainstorming sessions and document their results around programme definition and planning for further analysis and discussion.
And although the PgM² Canvas can be easily filled in even by a single person, it is more effective to involve several team members or stakeholders from the beginning in order to capture a holistic programme perspective 
Why is it useful?
The PgM² Programme Canvas is particularly simple and easy to use and understood by all programme stakeholders. As a communication tool, it can be used both in face-to-face and virtual online communications.
It is also worth mentioning that PgM² Programme Canvas can be used throughout the programme. It can be used for visualising the programme, for high-level monitoring and controlling and re-planning, while at the end of the programme it can be used as a basis for the programme review and the identification of lessons learned. 
Note, however, that even for the smallest and simplest programmes, the PgM² Canvas is rarely adequate to replace all other programme management artefacts as it does not allow enough detail to be captured. Therefore, use the PgM² Canvas as a complementary tool to all other PgM² recommended artefacts.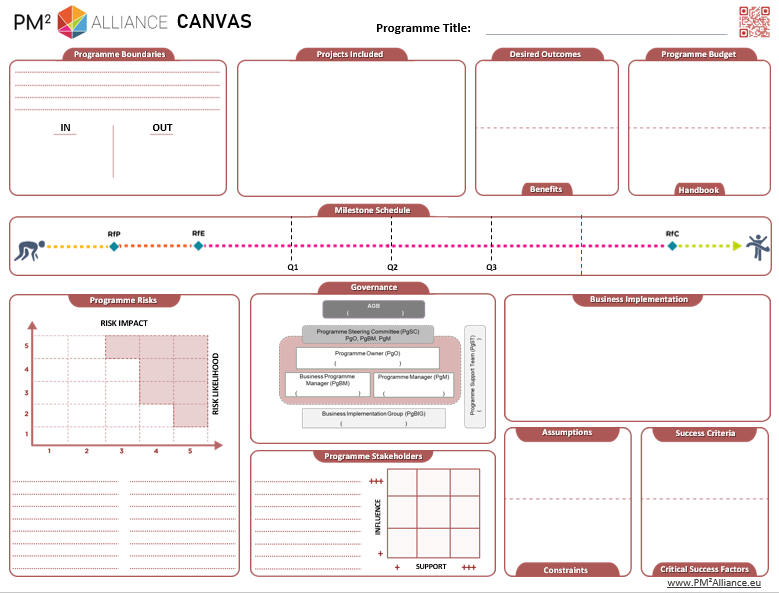 Interested in learning more?
Explore the PgM² Library space to find all PgM² assets. There you can find the PgM² Programme Canvas in printable PDF and PPTX editable format along with additional material that will be particularly useful for your programme.